NoBlue Amber Book Light

100% Blue Light Free

Rechargeable Battery

Travel Friendly & Portable

Improve Sleep Quality
The NoBlue Book Light is a rechargeable amber book light that is 100% blue light free. It is designed to clip perfectly to books, notepads, e-readers, or virtually anything with an edge!
read more

This light gives you a warm and relaxing evening experience completely free of any sleep-disturbing light. Featuring an integrated rechargeable battery for up to 20 hours runtime, 3 brightness settings, flicker free technology, and low EMF.

Fast Shipping

30 Night Trial & Easy Returns
Amber Book Light
The NoBlue light features our proprietary amber spectrum, which is flicker-free, gives off a warm and relaxing candlelight feel, that is 100% free of any blue light.
The has a 360-degree flexibility and can be adjusted to the exact position you want. This is especially useful when reading in bed with a partner.
This is the ultimate blue free light to have on hand. It is lightweight and completely portable and is perfect for traveling, camping, using in the baby's nursery, or utilizing anywhere you need some light that is 100% free of any sleep-disturbing blue light.
The rubber pad on the clip protects book pages from being damaged and offers secure and stable clamping. The large clip has a flat bottom base to convert it into a table lamp, providing a blue-free light source wherever you need it.
With three brightness settings of 25%, 50% and 100%, the NoBlue Book Light allows for an easily adjusted variable brightness of 20, 40 and 80 lumens.
Fully Rechargeable—This book light is powered with a rechargeable lithium battery (1200mAh) that allows up to 8 hours of use before needing to be recharged.
High Quality 100% Blue Light Free Amber Light
Flicker Free Technology
Rechargeable 1200mAh Lithium Battery
up to 30 Hours at 25% brightness
Adjustable brightness Levels of 20, 40 and 80 lumens
360 Degree Bendable Neck Cord
Micro USB Charging Cable included
Sturdy Base Clip with Rubber Mat Grips which converts to a desk/table lamp
28cm Long, Fully Extended
9cm x 8cm When Rolled Up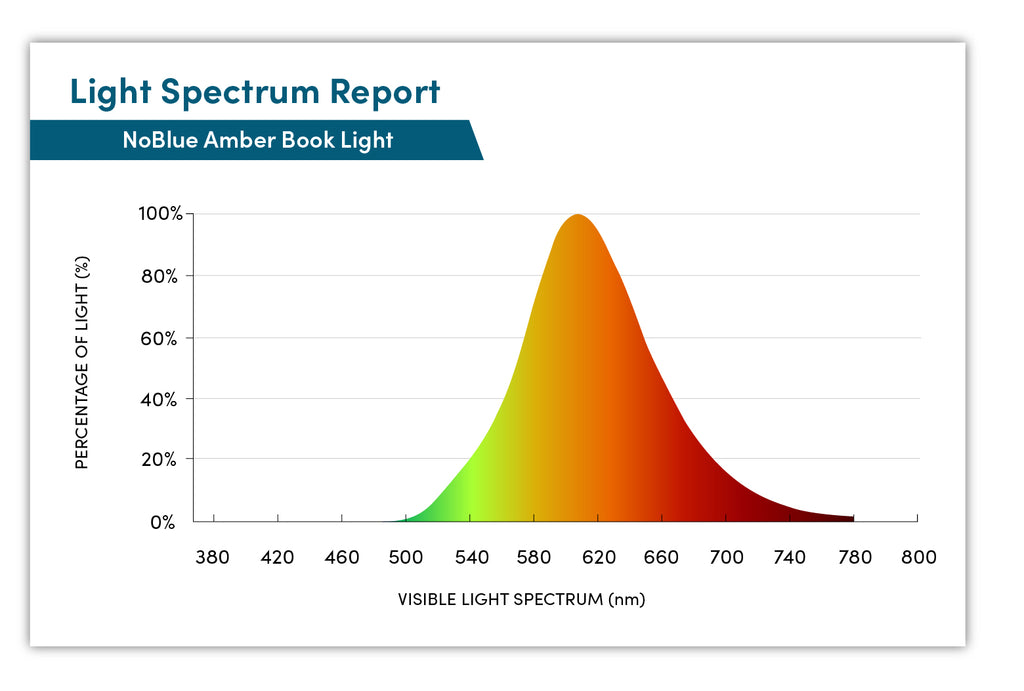 Great reading light

This is a very handy travel gadget that means you can read in places where the light is poor. Use it with the travel case. Also great for people who may wake up in the night and prefer soft rather than harsh lighting.

Book light

It's light is easy to read by, and its clamp makes it sit really well in the book.

REALLY USEFUL book light!

I love this little book light! It's perfect for late night reading or in dim lighting any time. The clip/stand works really well on books but also onto the bedhead or just sitting on a surface. It's sturdier than others I've tried, and of course - no blue light. So good.

Dorothy D.

Verified Buyer

Brilliant

I love this light. It's so relaxing on the eyes, no straining anymore & it actually lulls me to sleep

Excellent light to be able to read by at night

I love this light at night time. I can use to snuggle up on the couch to read a book, or do some craft in the evening before bed. Easily clips on to a book or sits on the table beside me.

Awesome product

Really enjoying the flexible neck and wide clip base. The amber light is easy to read with and so much more settling than my previous lamp

Great quality

I'm very conscious of evening light exposure and use this not only for reading but also navigating around the house after lights off. Plus handy for travelling, eg at a hotel that only has bright lights, this becomes my evening light. It's bright enough to light up a room to navigate. I find it still a little too bright (compared to my dim salt lamp), even on the lowest setting. Can also get a little warm after being on for a while, compared to my ordinary book light (which also has lower brightness output). Overall, very happy with purchase and would recommend.

Book light

We use this almost every night, sometimes in daughter room. Handy for reading and as a torch without waking them

We all have one

Even our toddler for his night time book read.

Get it!

Amazing. Best reading light I've ever owned. Feels like it will last well. It's not heavy so doesn't weigh the book down and the light it provides is perfect. I love it. Have been recommending to anyone who will listen!
Reviews Loaded
Reviews Added