Twilight Red Light Sleep Lamp

Rechargeable Battery

Travel Friendly & Portable

3 Brightness Settings

100% Blue & Green Light Free
The Twilight Red Light Lamp is a portable and rechargeable bedside lamp / desk lamp / table lamp that provides an optimal evening light source that is 100% blue AND green light free. This is the most optimal type of light to be exposed to prior to bed and during the night.
read more

Featuring 3 brightness settings with a touch sensor control, an integrated rechargeable battery for up to 12 hours runtime, flicker free technology, and low EMF.

Fast Shipping

30 Night Trial & Easy Returns
The Twilight Red Light Lamp is a portable and rechargeable bedside lamp/desk lamp/table lamp that provides warm and relaxing lighting that has zero blue and green light.
The red light lamp has 3 brightness settings with a touch-control to set the brightness as you need; from a very dim light to use right before going to sleep, to a brighter light that allows you to light up any room to work late into the night without lowering your melatonin and ruining your sleep.
This lamp features our proprietary light spectrum, which is flicker-free, has low EMF, and gives off a warm, relaxing, sun orange/red light.
Its Not Just Blue light...It's Also Green light...
Green light is right next to blue light on the visible colour spectrum, research shows green light also suppress our sleep hormone melatonin, therefore eliminating green light prior to bed is the optimal way to ensure deep and restful sleep. The Twilight Red Light Lamp is equipped with a 1800mAh rechargeable battery which allows you to easily pick it up and use it wherever you like. It will run for up to 12 hours on the battery or you can plug it in permanently via a standard USB charger so that it doesn't need recharging.
The gooseneck has a 360-degree flexibility and can be adjusted to the exact position you want. This is especially useful when reading in bed with a partner, working at your desk and need task lighting, or just want to simply direct the light in a particular direction.
100% Blue & Green Light Free Pure Red Light
Flicker Free Technology
Low EMF
Rechargeable 1800mAh Lithium Battery
Up to 12 hours use before recharge (lowest brightness)
Adjustable Brightness Levels of 25% and 50%, and 100%
50, 100, 200 lumens brightness output
360 Degree Bendable Neck Cord
USB Charging Cable included
Touch Control to change brightness
40cm Long, Fully Extended
14cm x 12cm When Rolled Up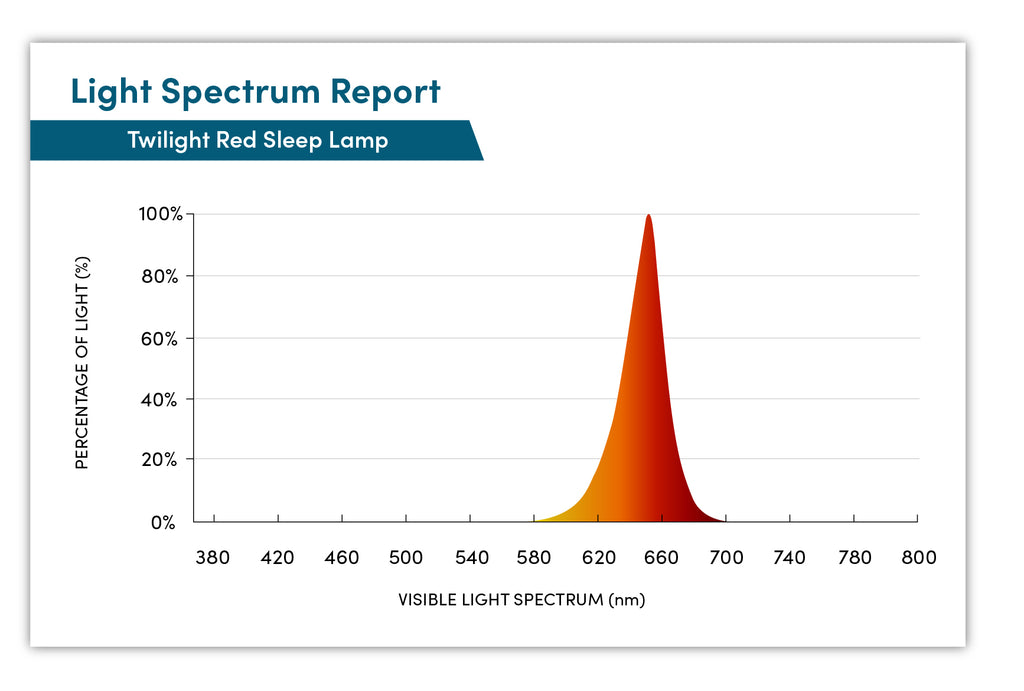 DF

Danielle F.

Verified Reviewer

Fantastic

Just received this lamp for my kids and I can't believe the quality, portability and ease of use. The red glow is beautiful. It's so kid proof too. I'm so impressed I want more! Great work guys this is your best product I've purchased yet!

Racheal S.

Verified Buyer

Red Light Sleep Lamp

This is a great little light. So easy to turn on and off with just a touch.

Lovely Atmosphere

This lamp is very effective at sending my and my husband off into a deep sleep. My only constructive feedback is that there is a small standby light on the back of it that I have had to cover with black tap as it is very bright once the lap is turned off.

Sleep light

I have this next to my bed.i have been diligently working on improving my sleep hygiene. I use it every night before I got to bed. I get sleepy pretty fast. I also use it as a night light if I get up in the night. Red light doesn't disrupt my brain's shut down. I love that it is portable

My red light sleep lamp

I have enjoyed using the light. It has improved my sleep patterns. I know that this will continue to improve the longer I use the light.

Easy evenings

I love having the lamp on when winding down for the evening before bed. I feel relaxed and rested and it creates a warm ambience.

Great purchase

It's improved my insomnia and I'm thoroughly satisfied!

Jeanine M.

Verified Buyer

Live this light

Great light. I'm so happy to have found these products. I think they are helping me to start to sleep better. It has a great ambience too.

Giulianna C.

Verified Buyer

Awesome for my late night readings

This is the best thing to have close to your bed side table. Really helps with sleeping and if you enjoy reading before going to bed this is the best thing to have!

Nuria Olsina P.

Verified Buyer

Lampara

Es totalment recomanable i m'encanta la llum que dona en qualsevol de les tres posicions
Reviews Loaded
Reviews Added