Twilight Red Light LED Strip Lights
100% Blue & Green Light Free

USB Powered

Brightness Control

Maximise Sleep Quality
The Twilight Strip light is the ultimate durable and flexible blue & green light free light source, powered through a standard USB port and available in multiple lengths.
read more

Featuring a brightness controller to create the perfect ambience. Easy install with 3m backing tape.

Low EMF and Flicker Free with multiple lengths available.

Fast Shipping

30 Night Trial & Easy Returns
Red Light LED Strip lighting - USB powered
The Twilight Red Light Strip light is the ultimate slim and flexible blue blocking light that emits no sleep disrupting blue or green light providing a warm sunset orange/red ambient light in the home.
The red strip light works amazing as a night-light, ambient light, mood light, or back-lighting behind TV's, under beds, above kitchen beeches, or practically anywhere you like!
The Twilight Red Light Strip light is 100% blue light free, has zero flicker, and is low EMF.
Available in 3 different lengths ranging from 0.5m to 2m which comes with a double sided tape backing so you can attach securely onto different surfaces, and for surfaces where the backing tape is not suitable, special clips are supplied to attach the strip light into place.
The strip light offers a wide-spread diffused light which provides fantastic coverage when lighting a small area or room at night. The different lengths and flexibility of the strip allows you to get really creative on how you light up a room.
The red light strip light is powered with a standard 5v DC USB port which can either be a USB wall charger or USB port on a computer, it can even be run off of a USB Battery Bank for truly off-the-grid operation!
The adjustable brightness controller allows to you fully increase or decrease the brightness to find the perfect level of light whilst still remaining flicker free.
*Power adapters or batteries are NOT included.
Colour temperature: 1200k
Power Requirements: 5V DC (Standard USB port)
USB power cable length: 1.7m
Strip light length: 0.5m / 1m / 2m
Brightness: 60 / 120 / 240 Lumens
No. of LEDs: 30 / 60 / 120
IP rating: IP65 (waterproof)
Flicker Free Technology
Peak Wavelength: 630nm
Wavelengths blocked – 100% between 380-570nm
Life: 30,000 Hours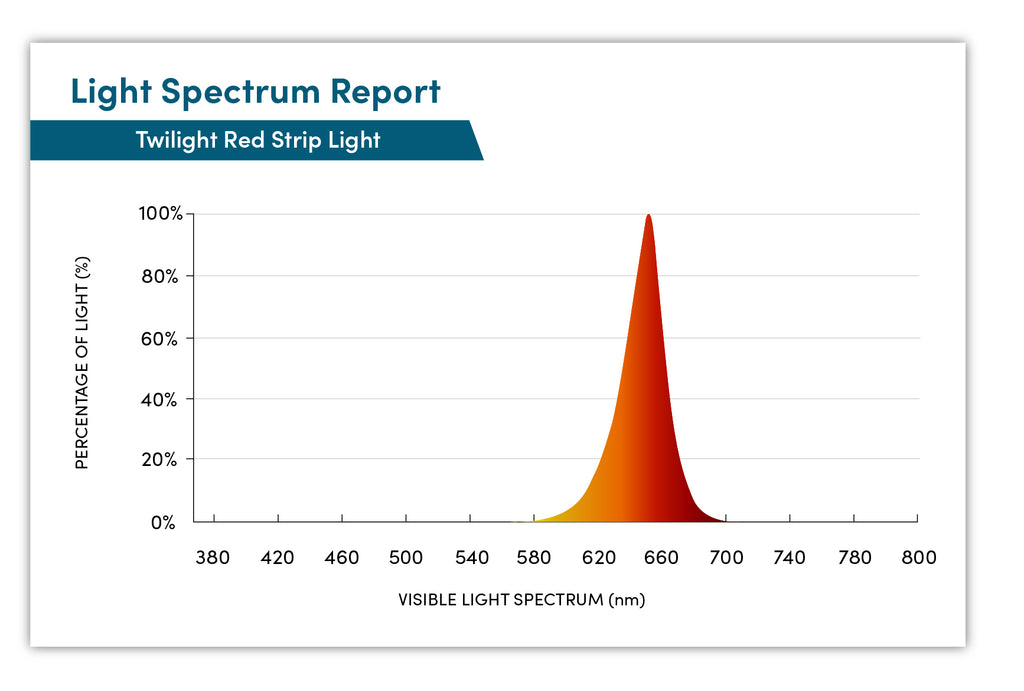 Absolutely love this red light strip!!

Not only did this light help my kids feel safe transitioning into their own bedrooms, it also looks awesome & won't affect their sleep, even with them leaving it on all night (which they do). I absolutely love that you can dim & brighten them very easily with the little buttons. Definitely going to get more and for my room too!!

Perfect for night wakers

This is a gift for a family member that has just had a baby, wish I had them when my children were born. Doesn't wake you and I can fall back asleep quickly.

Great nightlight!

My son had a standard LED night light that projected a Star Wars image on his ceiling that he loved but I knew it wasn't good for his sleep so I got him one of these and he loves it. You can also adjust the brightness, which is nice. An excellent product!

Jeanine M.

Verified Buyer

Great ambience

I am loving this strip light. Great peace of mind for helping me to sleep better by blocking blue and green light. It also has several settings so you can dim or brighten. It also gives a nice ambience. I am hoping to get some other lights from here as well at some point.

Strip Lights are Superb

I've left the adhesive tape on the back because I want to take it with me travelling. I've mainly plugged it into the ensuite socket so I don't have to put the brilliant white overhead light on in the night. It's meant that I get back to sleep so much quicker after a comfort break and I sleep deeper, too. I love this light strip 😍

Led strip

Very happy with purchase, I'm getting much more undisturbed sleep.

Purchased for my granddaughter's sleepovers. She's going through a period of scared of the dark & wants a light on all night, which disturbs my sleep.

It can be mounted discreetly, so is not a visual eyesore & can be dimmed or brightened as required.

I wish I could get it to work with a timer but it doesn't. I think it's due to the type of switch it has.

Game changer

We only due red light night time from sundown and the kids have responded so well! They are going to bed earlier and much easier. I started with just the red globes in our lamps but the house felt dark and hard to see. Especially cooking and eating.

I then ordered these LED strip's and they've been a game changer. 1 in the kitchen, 1 in the bathroom and 1 in the lounge room. It's bright enough I can cook dinner under these and the kids still be settled enough for a good restful sleep.

I can't imagine having bright lights on at nightime now. Its so comfortable for our eyes and has given us all a calmer bedtime routine.

Love it!

So impressed with the one I bought I'm getting more!

William B.

Verified Buyer

Exactly what I was after

I was worried these lights would be too dim. Thanks to the adjustable brightness, it ranges from pale mood lighting to dazzling. I use these instead of my normal light bulbs at night and I've been sleeping better as a result.
Reviews Loaded
Reviews Added