Twilight Red Light Blue Blocking Torch

100% Blue & Green Light Free

Perfect for Camping

Flicker Free Technology

Maximise Sleep Quality
Pure red light torch verified to be 100% blue and green light free. Perfect when camping or traveling or trying to navigate around the house at night. This torch is flicker free and low EMF.

Fast Shipping

30 Night Trial & Easy Returns
Red Light LED Torch
We have designed the ultimate torch to use when manoeuvring in darkness without disrupting melatonin production. The BlockBlueLight Twilight Torch uses nine bright LEDs and emits only pure-red light (625nm), so there is no-sleep-disrupting blue or green light exposure, guaranteeing you receive maximum melatonin production for deep and restful sleep.

The BlockBlueLight Twilight Torch is a must-have for your blue light blocking tool kit. It provides plenty of sleep-promoting red light, allowing you to easily navigate the dark without exposing yourself to harmful artificial light at night and ruining your sleep quality.

These are perfect for situations where you need a small amount of light to see but don't want to turn on your lights and get blasted with blue light. Most people tend to use their flashlight function on their smartphones, which is very high in blue light! Stop disrupting your sleep and use this handy pocket-sized torch instead.

Midnight bathroom trips and finding your way to bed at night no longer need to interfere with your sleep quality!
Perfect for use in nurseries so you don't disrupt you or your babies melatonin production and sleep.
Great for parents checking on their children or by anyone who is up during the night.
Bathroom trips in the middle of the night no longer need to disturb your sleep
Perfect for camping trips
Pack in your bag when you go traveling
Anywhere you want to see without needing to turn on sleep disrupting lighting
Power: 2.7W
Material: Aluminum Alloy
Wavelengths: 610nm – 660nm red light (peak 630nm)
Power Source: Batteries 3 x AAA (Batteries not included)
Color Temperature: 1200k
Certification: CE, FCC, RoHS
LED Life: 100,000 hours
Weight: 50g
Size: 95x28mm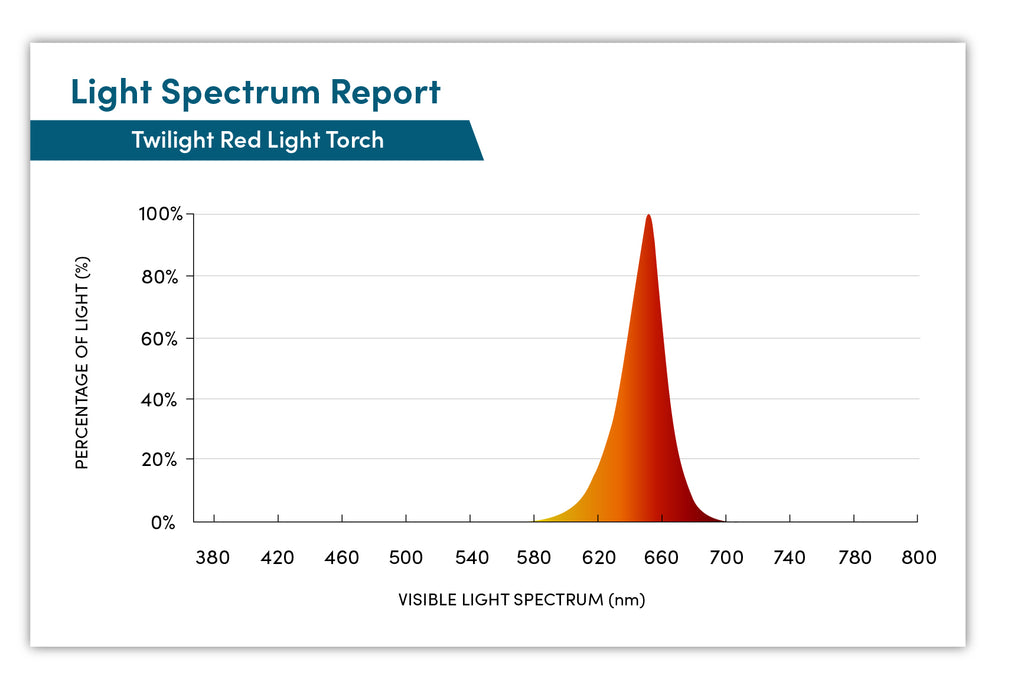 Best overnight torch for the kids that won't affect their ability to go back to sleep!

The kids absolutely love their torches for sleepy nighttime trips down the hall to the loo or to mummy & daddy's bedroom to tell us they had a nightmare. We feel so much better knowing that they can use a torch overnight that won't disrupt their circadian clocks & mess up their sleep!

Compact, and does the job.

It would be nice to have an orange one.

Love my flashlight!

I love this little light! I keep it by my bed and use it every night. I often wake up during the night and it's nice to be able to check the time or get up and move around without any blue light.

Great little Red Light Torch

Great Red Light torch for after dark use. Noticeably easier on the eyes than harsh white light and for keeping the melatonin after a rise in the night.

Torch

Was as expected, works well, delivery was fine. :)

does exactly what it's supposed to do !

handy for night-time trips to the bathroom

Great Little Torch

So convenient to keep by the bed to reduce partner disturbance. Compact & affective.

Brilliant!

For several years I've been using a small LED torch with my hand held over the light source so it wouldn't wake me up too much. I was delighted to find the red light torch... it's both brilliant but too bright!😁

Would recommend

Bought this for my husband who has Parkinson's and has many trips to the toilet during the night and has stairs to get there. This means he doesn't need to turn on lights to get him there safely and not over waken him. So when he returns to bed he can fall asleep easier.

Almost too bright

It's a really sturdy well made torch with a powerful red light. I'd say almost too powerful.
Reviews Loaded
Reviews Added