Sweet Dreams Blue Blocking Downlight

100% Blue Light Free

Relaxing Amber Light

General Purpose Lighting
Improve Sleep Quality
The SweetDreams Downlight is the worlds first and only 100% blue light free, zero flicker, low EMF, LED recessed downlight. Provides a warm amber light source that is bright enough to be used as general purpose lighting through out the home. Fully certified to AU/NZ electrical safety standards.

Fast Shipping

30 Night Trial & Easy Returns
The Worlds Healthiest 100% Blue Light Free Downlight!
Blocking blue light from entering the eyes is only addressing part of the problem. When your skin is also exposed to blue light it can also disrupt your sleep and circadian rhythms. All LED downlights that are used in our homes are very high on the blue light spectrum, which tricks our brains into thinking it's the middle of the day, making us wired and alert. Conventional LED downlights also produce high amounts of flicker which causes headaches and eye strain.
The SweetDreams Downlight is the worlds first and only 100% blue light free, zero flicker,  low EMF LED recessed downlight.
This downlight features our same proprietary spectrum technology to produce 100% blue light free, zero flicker, low EMF light. There is no other LED downlight available that ticks all these boxes for healthy lighting!
We also have our same Sweet Dreams bulb in B22 bayonet, E27 screw, and E14 small screw light bulbs.
Colour temperature: 1800k
Peak Wavelength: 585nm
Brightness: 700lm
Wavelengths blocked – 100% between 380-500nm
Life: 35,000 Hours
Beam Angle: 120 Degrees
Input voltage: 220-240v 50/60Hz
Power consumption (watts): 10w
Insulation Rating: IC-F & IC-4
IP Rating Rating: IP44
Certifications: CE, ROHS, SAA, RCM
Cutout Size: 90mm
Fascia Diameter: 115mm
Depth: 60mm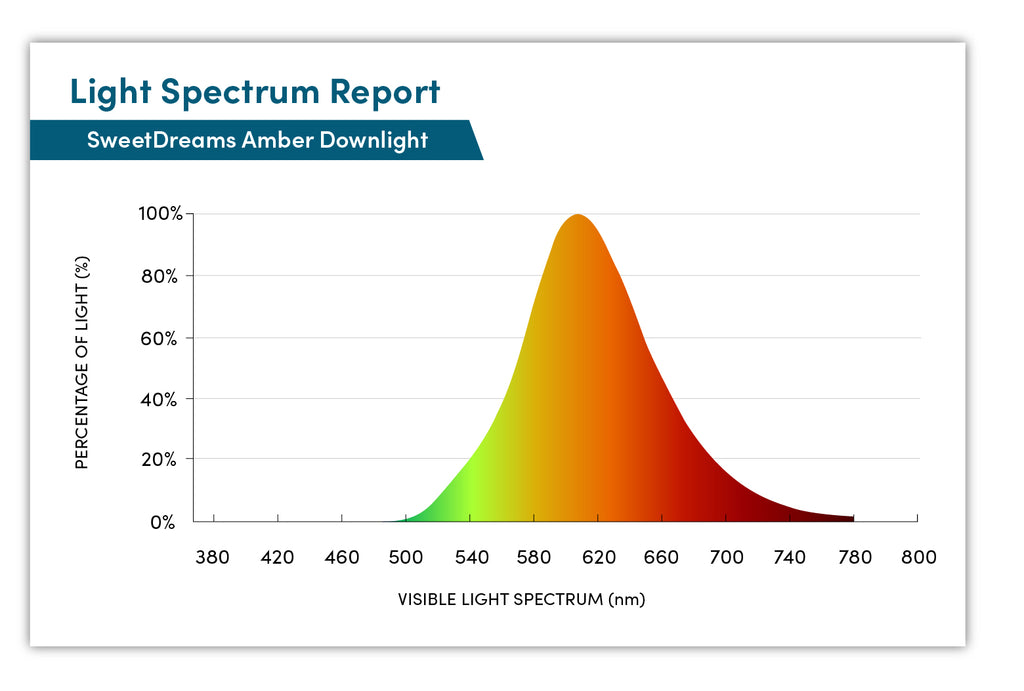 Omphalie Z.

Verified Buyer

So relaxing

Since I received these lights I do not turn any other lights on in the evening. I have two bio-lights and one dream light and and even just one or two of them are sufficient to light up my kitchen and dining room. I have bought plumbing corners bits, $2.70 or so, and the lights fit perfectly into them. You got to squeeze a bit and push them firmly in. The orange light is incredibly relaxing. I can feel my whole body breathing out and relaxing. I attended a health retreat and we had only these lights on at night. So I got inspired to get some for my home. Now it feels as if I am still on the retreat.

Surrounded with warmth

Replaced a couple of our LED downlights near baby change table and dining area. The light is warm and golden, so easy on the eyes and very noticeable against the harshness of the original LED lights elsewhere. The non-flicker is also noticeable between the two. Baby is more relaxed when these are on. Expensive but worth the investment for strategic areas.

alfredo BROTONS G.

Verified Buyer

Todo perfecto

Funcionan de maravilla y lo mas importants sin Luz azul.

Christine M.

Verified Buyer

Blue blocking light

I installed these in a guest bedroom as the existing lights were very harsh. I had two guests last week and asked them. They said they liked the lights.

Soothing Lights

So far so good. Reminds me of the house lights when I was growing up in the 80s-90s.

Love them, will do our whole house!

These lights are awesome for night time lighting, bright light for the day time or cooking - especially on winter days!

Cheryll G.

Verified Buyer

Fabulous Sweet Dreams Downlights

We took the risk yesterday and installed 8 of the Sweet Dreams Downlights. We replaced 5 fluoros in our kitchen, lounge and dining area and also installed Sweet Dreams in our bathroom, toilet and computer room. We are very happy with the result. They provide plenty of light to read and work by, but are peaceful and relaxing. Just what we wanted. We also now have Sweet Dreams in our bedroom. We initially tried the red Twilight in our bedroom but Twilight were just a bit too dark for us to read by, although they may well suit younger eyes. Sweet Dreams are just right for us and look soft and attractive. Service was great too. I spent some time on the phone with Daniel deciding whether to invest in pricier downlights and he was most helpful. We put one cheap downlight in over the stairs yesterday and we are really glad we went for Sweet Dreams elsewhere. There is no comparison in quality.

Deborah S.

Verified Buyer

Relief with Block blue light products

Block blue light products are amazing for preventing eye strain, headaches and fatigue etc. I am totally reliant on them for this relief.

Aaron B.

Verified Buyer

Great Products

Hi

Made my first purchase with Block Blue Light recently and glad I found them. Lots of different products all aiming at the same goal. making your sleep better. I really love the Sweet Dreams Sleep Lights, both globes and downlights installed. They are very restful on the eyes in the evening.

Regards

Aaron Brown

Lukas N.

Verified Buyer

Awesome Downlight which everybody likes

Entire family loves this downlight and you can use it even in the morning when the sun didn't raise yet. For those who has to get up early in the morning when outside is still the darkness this light is pleasant. Many people from the street stare to this golden color and ask us when we get it. Recommended!
Reviews Loaded
Reviews Added